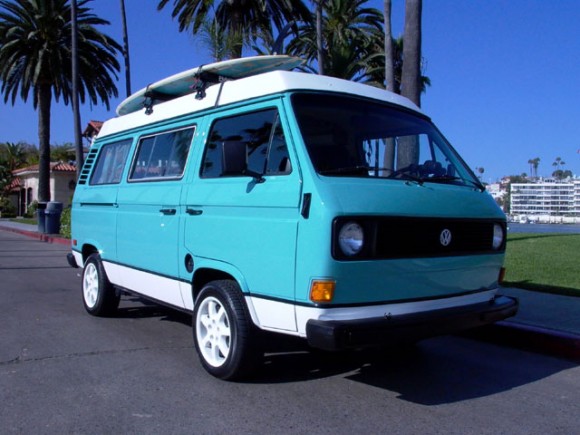 This 1981 Volkswagen Vanagon Westfalia by Eric Rankin looks as good as new. In fact, it looks better than new. With a gorgeous paint job, custom wheels, and custom upholstery, this one is to die for.
Things done to this vanagon:
All chrome, (bumpers, window trim, etc.) painted black.
Two-tone paint. (1963 VW Turquoise and Snow White)
Custom Ronal 16"x8" "Joker" wheels painted Snow White.
VDO gauge cluster with tach, temp, oil & volt gauges.
Wet Okole neoprene seat and bench covers.
Kenwood stereo with Serius-enabled tuner and iPod hookup.
Secondary house battery with charging relay.
Center Console storage for Absorber, binoculars, pens, paper.
Custom Sunbrella fabric curtains, pillows and dash cover.
Split-cushion rear portion of lower bed (for easy storage).
Bamboo floormat from Bali. Beanbag ottoman from Tijuana.
Yackima roof rack with artificial gutter mounts.
Slide-out hitch receiver and tilt-up rear storage rack.
2 folding bikes stowed on storage rack.

Click through to see more pictures and a very nice custom interior!

READ MORE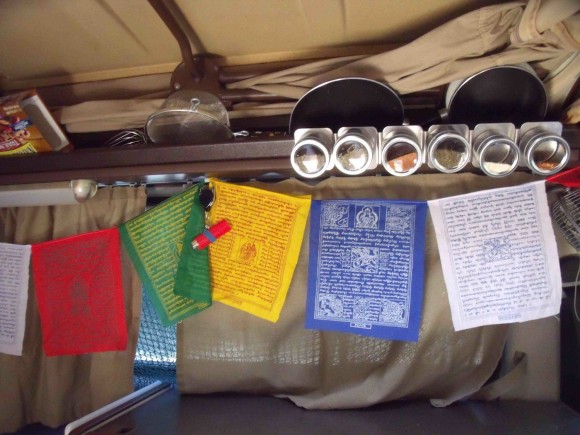 Here is another Vanagon spice rack mod. We have seen a spice rack in the back cabinet before, but this time the spices are towards the front of the Vanagon. The Samba user Tyler Anawalt posted pictures of his Vanagon and he has several of his own customizations including the spice rack above. Click through to see a few other personal customizations that may inspire you.

READ MORE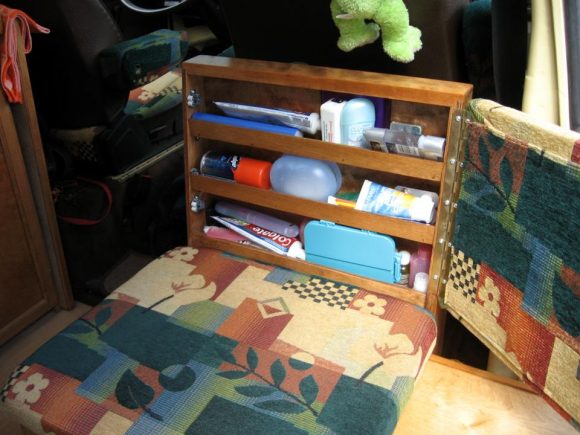 If you need more storage behind your front seats you might try with this Vanagon owner did. Check out the custom rear seat with a pop out table and storage shelf. You can use the table for outside cooking, and hide toiletries in the shelf behind the seat back. Very nice.

READ MORE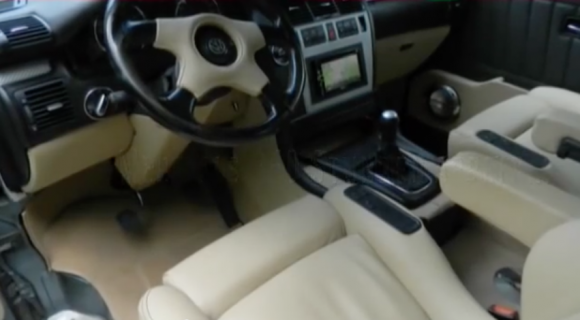 We see so many custom Vanagon interiors at Vanagon Hacks, but this one has to take the cake. This interior is was taken from an Audi A8 and replanted into a Vanagon. What?! Whoever did the job is a master because it looks incredible. Click through for more pics and a video walk through.

READ MORE
Check out these striped interior Vanagon cabinets. I'm not sure I could live with these as it would play tricks with my eyes, but the installation looks good. They have a nice Vanagon logo on one of the cabinet doors and seat cushions to match. Nice job.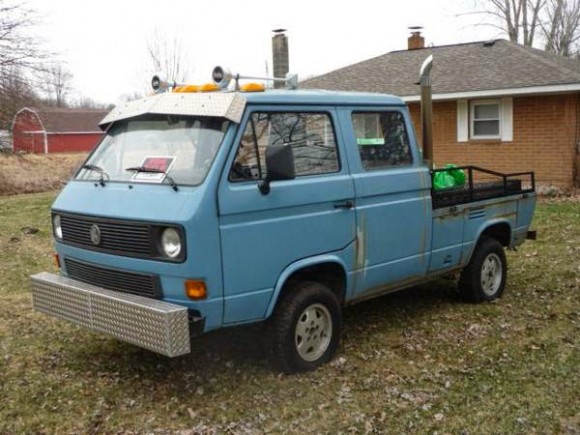 This 1990 double cab Syncro was for sale recently in Saginaw, MI. It has several homemade hacks including the diamond plate bumper and sun visor. This Doka has a Subaru engine so there is plenty of power. The rear folding bed slides are gone in favor of a homemade bed, but it also features truck exhaust and roof mounted horns. The seller was asking $10,000 on Craigslist. Click through for another pic.

READ MORE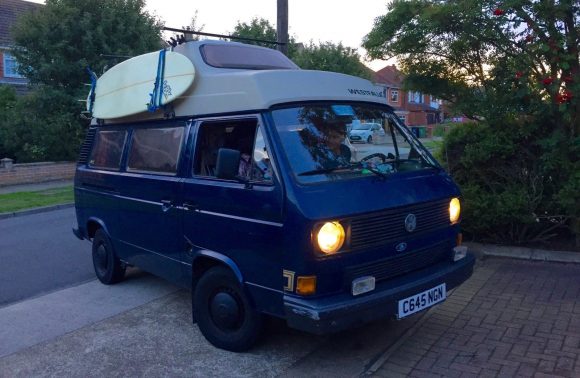 This "Club Joker" T25 high top camper recently sold in the UK for £7,000.00. It looks like the perfect surf mobile for someone who wants to overnight at the beach. It's a standard camper, but the seller says the Club Joker was the top camper in its day. This one has a lot of character if you can get past the black hubcaps. If she had a set of Go Westy wheels she would be sweet!

READ MORE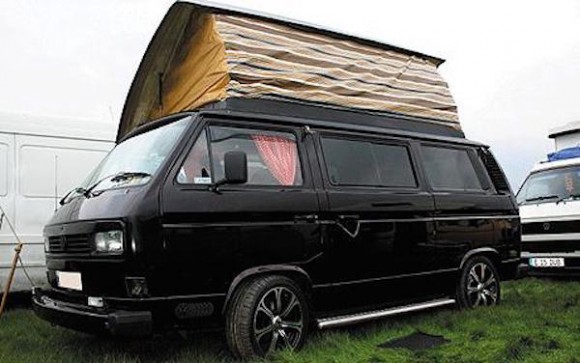 This black 1982 Vanagon Devon Moonraker was spotted on The Telegraph. It has an unusual pop top that opens sideways. If I had to choose a name I'd probably call it "The Clam." Aside from the nice paint job this Vanagon sports custom wheels, fog lights, and the "eyelid" on the grill that I love so much. The Telegraph describes it as follows:
Finished in Holographic Black, the exterior doesn't give much away, although if you catch it in the right light, it glints red, blue and green. Inside, however, is an explosion of red and white, with a swivelling table made from a skimboard. There are spotlights, ambient LED strips, DVD screens and a black-and-white tile-effect floor. We love it.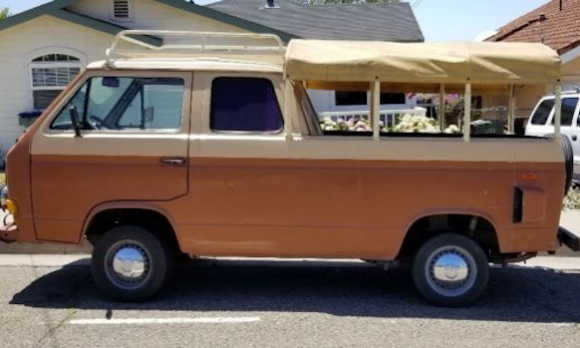 Talk about a hack. This 1985 Vanagon has been customized to be a "Doka Clone." It is currently for sale in California and has 163,000 miles on it. Everything works except the custom air conditioning. The description says, "VW 1985 Vanagon GL 1.9L CUSTOM, " DOUBLE CAB DOKA CLONE ". My Grandfathers last custom vehicle. It has a 1.9L motor that was rebuilt in mid 2015 and now has only 30,000 miles on it. It's in excellent running condition, and always maintained on mileage schedule. All the lights work perfect. The tires are at 85%. CUSTOM ADDED AC UNIT IS NON WORKING". AC can be used if the AC pumps added again."

READ MORE