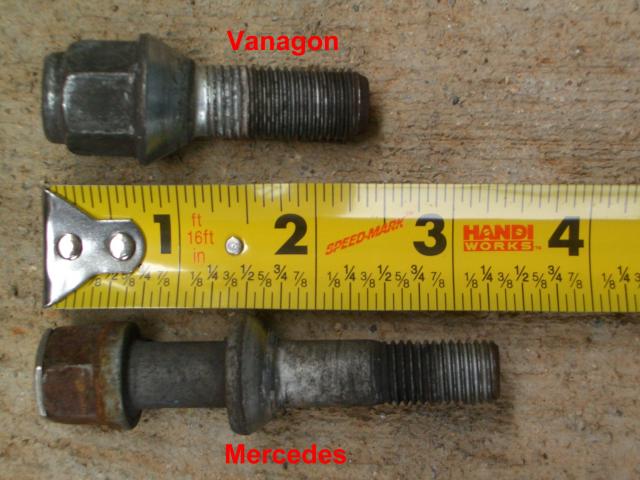 We've been looking for new wheels for the Vanagon for quite awhile now. Why do we want new wheels? It's all about the ride. Some people want nice looks, but we want a nice ride. The stock wheels come with reinforced sidewalls which makes the ride quite rough. We think we can get a larger rim, with a shorter tire and it will actually feel better because the sidewalls won't be quite as stiff. We'd also like slightly wider tires for better handling.

We have a set of Mercedes 16″ wheels with brand new tires that would be perfect for the vanagon but we cannot find lug nuts that fit. We have to drill the Mercedes wheels to make them fit but unless we find the lug nuts, we can't do it.
You can see our comparison shot. The short one is the vanagon bolt and the longer one is the Mercedes bolt. We need a bolt that is as long as the Mercedes, but as thick as the Vanagon's bolt. I'm not an expert so this is quite a hassle. Nobody seems to have what we need.
We'll probably have to end up purchasing the Go Westy Wheels but they won't ship the tires to Honolulu. They recommend 15″ wheels for our Carat but we're seriously looking at going with the 16″ wheels. We'll put a slightly lower profile Michelin tire on it and see how it goes.
UPDATE: We decided to skip the Mercedes wheels as finding the right lugnuts was a hassle.  We bought Go Westy 16″ Wheels and they work like a charm.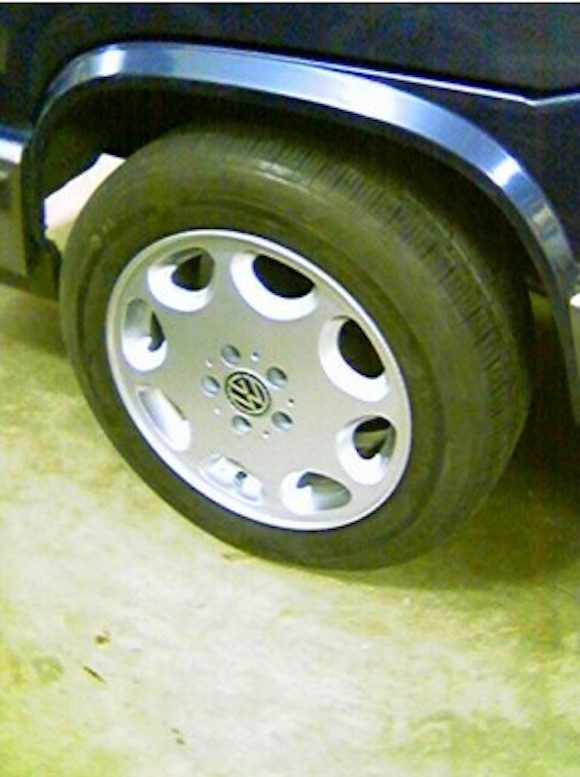 We bought Michelin tires from Amazon and it was perfect. Free shipping!