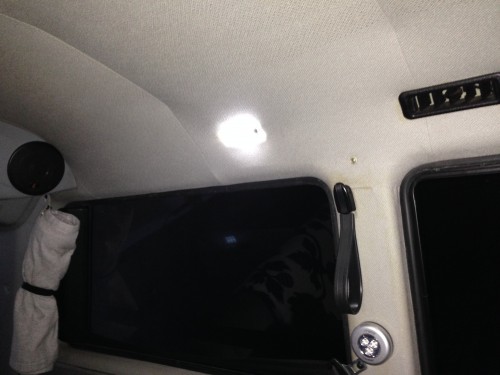 I just installed the interior LED upgrade kit from Van Cafe and it is fantastic. These new LEDs use 90% less energy, but provide amazing light. The new bright white light is so much better than my old interior festoon bulbs, and I can clearly see the entire interior of my Vanagon during the day or night if the lights are on. Unfortunately my camera cannot adequately capture how great the improvement really is. The picture above doesn't do it justice, but trust me, they are awesome!
The kit was easy to install and makes a big difference. The new bulbs are just slightly larger in some cases so you have to squeeze them in there. It's really not a big deal at all and well worth it. I bought the kid for $30 and the improvement in the map light is almost worth the entire kit. I can finally see in my glove box! I would highly recommend this upgrade to every Vanagon owner. Your eyes and your battery will thank you.
If you're looking for an upgrade kit you can get one from Van Cafe or GoWesty. I order from both companies on a regular basis and both are fantastic!