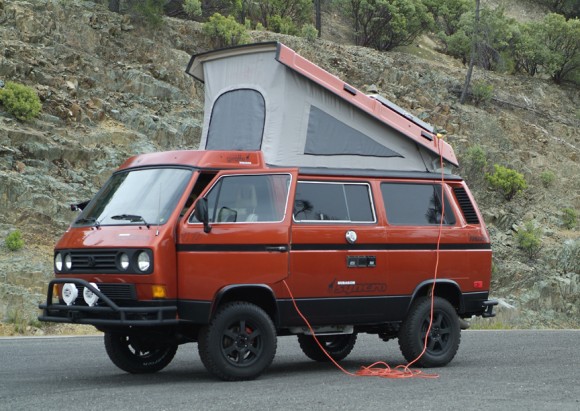 The guys over at Subagon sure know how to redo a Vanagon. This 1986 Syncro, called "The Giraffe," has recently been redone and has a crazy list of upgrades. While planning the project, they intended to wrap the van in a skin print and call the van Giraffe. Halfway through they scrapped the skin idea, but kept the name. Click through to see the insane list of upgrades and more pics.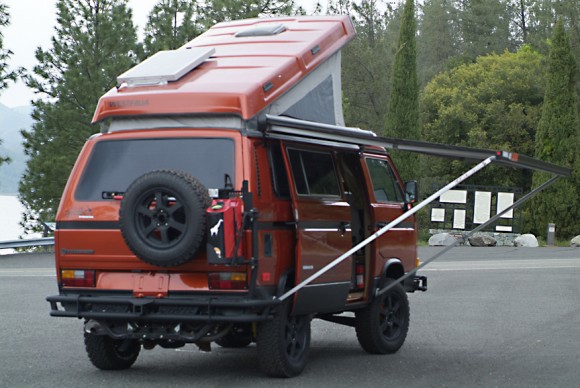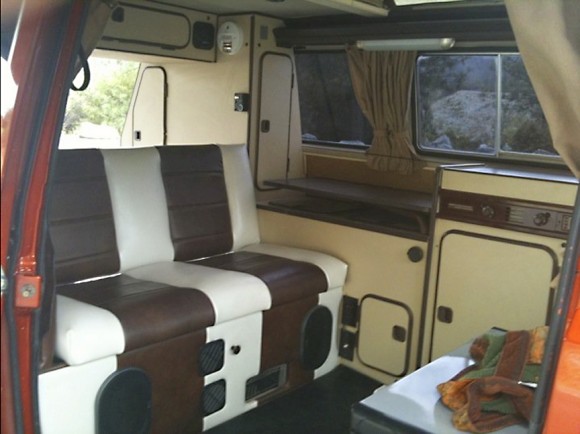 Insane list of upgrades:
1995 Subaru SVX
New Clutch, Flywheel, Pressure Plate, Adapter Plate
Re-built Transmission with taller 3-4 gears
Driveshaft de-coupler
New 2 Stage Paint (window out)
New window seals
16? wheels , 225/75/16 BFG A/T Tires with matching spare
2? lift kit with old man emu shocks
Big Brake Kit (front)
2? Tubular bumpers front and rear
Swing Away Tire Carrier
Hi Jack lift on tire carrier
Fuel Can Carrier
50 Watt Solar panel
Isolated secondary house battery
1500 Watt Inverter
High Powered Headlight System
South African Grill
Hella driving lights
New Seat Upholstery
New Carpet
Dynamat sound deadening
Massive stereo system
Propex interior camp heater
Refrigerator Delete Kit
45 QT Whytner 12v Refrigerator
8? Fiamma F45 Awning (THE BEST)
Front in dash A/C system
New Acrylic Pop Top Canvas
Pop Top lift shocks
New Cat / Exhaust / Muffler System
Interior LED lights
New Starter
Optima Start Battery
Undercoating
Rock Chip guard around bottom 12?
Stainless Steel Cooling lines
Custom Subagon Giraffe Graphics
Head on over to the source link below for a lot more pics. You have to see this van!