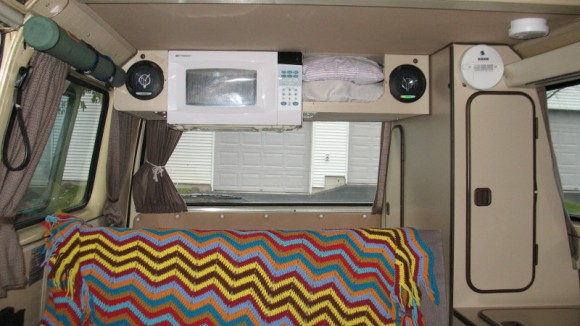 What do you do when you want to re-heat your food while on the road? You install a microwave oven in your Vanagon, of course. Tom Boldway installed a 700 watt microwave in his van after his air conditioning stopped working. He decided to use the space above his bed for the microwave. If you don't need air conditioning this works great. Get another pic and instructions after the jump.


Tom took down the top of the closet to make his hack.
700 watt super tiny microwave installed. I used 1.5″x1.5″ and 2″x2″ angle aluminum from Lowes. Most of the hardware is stainless. I masked and painted the microwave bottom before installing in the camper – no photos of that. The extension cord goes through a 1.5″ hole in the top of the closet and out over the area behind the seat in front of the engine cover.
Check out Tom's website at the source link below for more pictures and instructions. What do you think? Is it worth sacrificing your A/C for a microwave? Let me know in the comments.