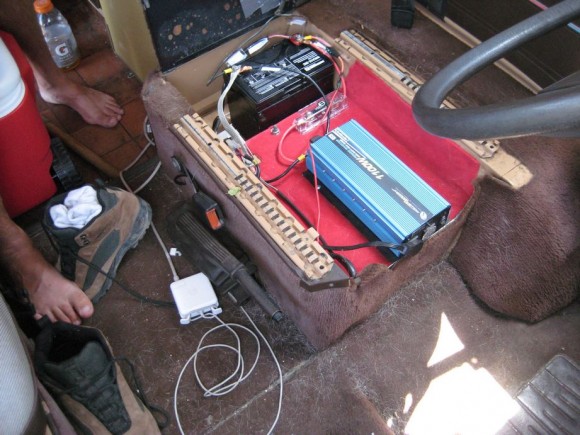 We received this submission from someone who does not want to be identified by name. He has however, posted this inverter installation on The Samba. We considered a similar installation location for our van, but chose to use the space under the seat for storage, and a battery charger. Click through to see how this guy installed his inverter, and mounted a set of outlets behind the front seat.

"First thing I did was pull the seats and cut out the sheet metal that prevents you from using "under the seat" as easily accessible storage. It does not seem to provide much if any structural support. I put down some dynamat and glued down some red velour-ish fabric I had been given (the curtain of an old stage) which was heavy enough to dampen a little more sound.
I got a Powerbright 1100W inverter and so far I'm pretty happy with it.
I went for the 1100 over the 900 mainly because it wasn't much more $ and the 1100 had a fancy LED display. It's supposed to display Watts or Volts at the flip of a switch but the Watts seems to have stopped working. Doesn't matter because all I care about is how much juice I have in the aux batter, so I leave it on V all the time.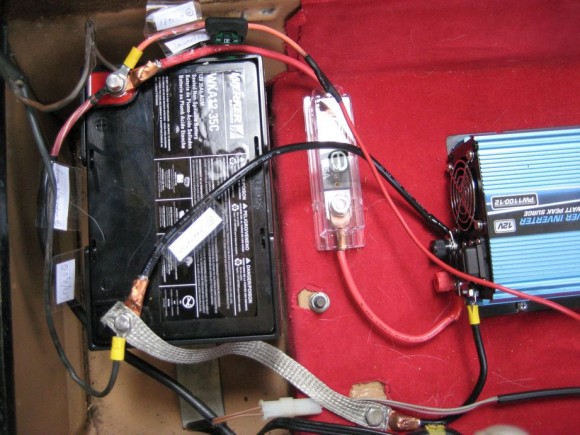 Also installed an ANL fuse (used 125A, which may have been too small, but too big for the 6 gauge wire I used). As for the wire, definitely too small. Will upgrade to 2 or 0 gauge.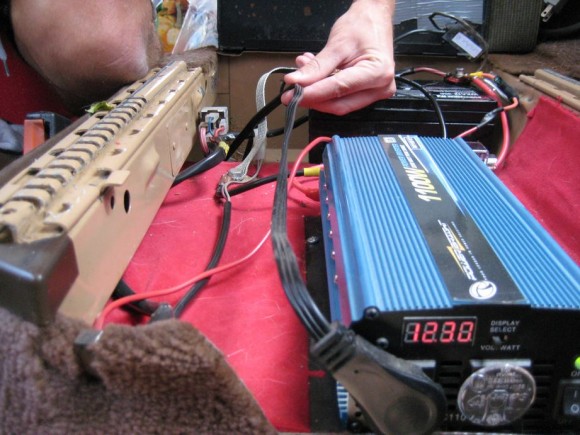 So here's the cool part: The 1100W has 2 outlets on the front, one of which I put a kiddie guard on so I don't zap myself while feeling around to turn it off, and the other of which I bought an extension cord for and ran to the aux battery compartment.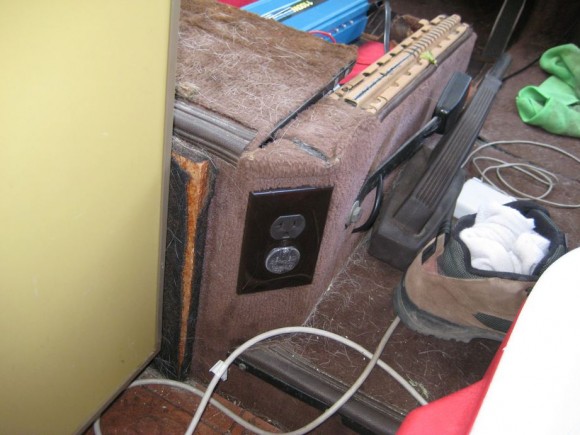 Then cut a hole in the side of the aux battery box with a dremel and wired the ext cord to create some cabin-facing 110V AC!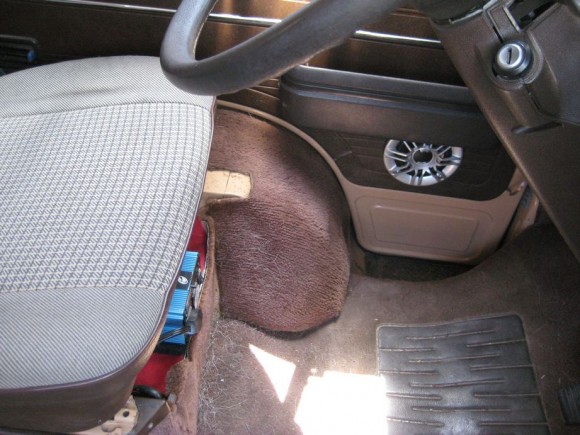 The inverter sticks out enough to reach to switch on/off while driving and check voltage easily (I drive with seat all the way back). And I believe there's plenty of clearance for heat dissipation.
The bad news is of course this is a modified sine wave inverter and it's bad to power/charge some things with modified sine. I think using it to charge my macbook (did hear some buzzing) caused the battery to swell up and now I have to replace the battery. I've used it for lots of other projects though, used to power the dremel the other day to cut some bolt off or something like that…"