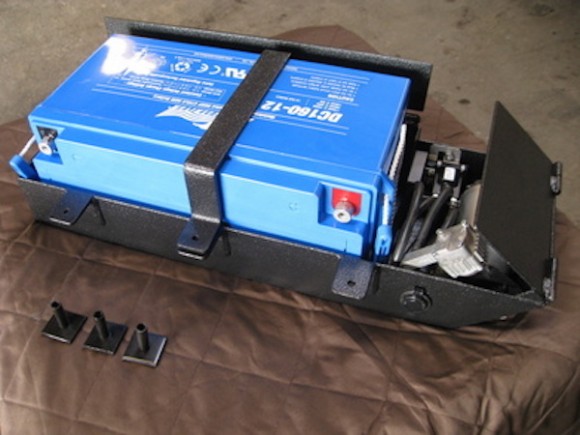 There is a lot of unused space under the Vanagon, and Peace Vans wants to make use of it. Peace Vans is a shop with some of their own nifty mods, and the undermount PV battery tray is a nice once. They craft a tray that holds a house battery and/or a starting battery. The tray hinges down for easy access. This tray allows you to get the battery out of the interior of the van. Click through to check it out.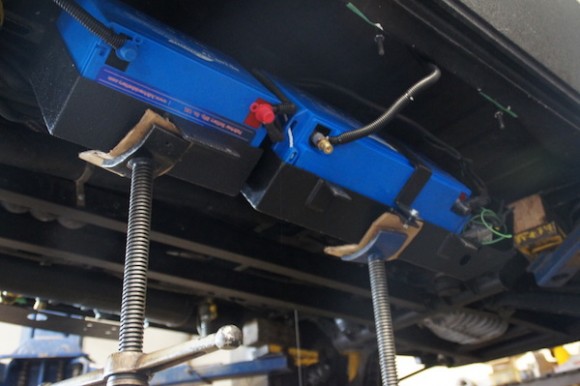 The build quality looks excellent. I've always wanted to use that space for a hinged storage area for chairs. This mod looks good too though.
Peace Vans list the following features of the PV Tray Mod:
Full River glass matte battery: Just under 30 minutes at 25 amps reserve capacity
Deep cycle 12v battery
Mounts both house and engine start battery under the van
No more epxlosive devices underneath you (yes, batteries can explode)
No more rotting due to leaky battery acid
Utilizes stock nuts already installed in the floor of the van
No ground clearance is compromised: Sits right above the LP tank's lowest point
Hinges down for easy access
Built in skid plate
Excellent welding
Superior corrosion protection: Etched, coated with zero-rust finish and top coated with catalyzed impact coatingEasy access of brass terminals for use of jumper cables on other vehicles
Hardened steel and stainless hardware utilized
Built to last! Holds its own weight plus two men with easeIt's green! No generator required

Hit the source link below to check out other mods by Peace Vans. Nice job!