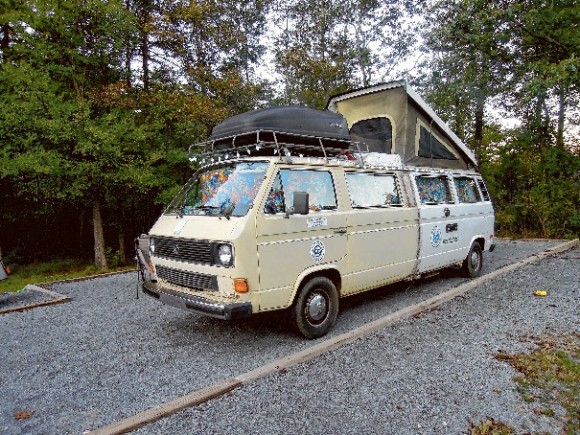 The first time I saw a stretch Vanagon I was blown away, but it is actually more common than you might think. A number of people have "stretched" the Vanagon by welding two of them together. We've seen the Vanalong, this Go Long, Vanagon Limo, and the Coyote Shuttle. This 1981 Vanagon stretch is a bit rough, but when you read the story of how Kyle Guthrie welded two Vanagons together and took a road trip while the weld was still warm, you realize just how special these are.

"We literally took off to Tampa while the welds were still warm," he said. Once they miraculously got to the Sunshine State, where they planned to camp and go to a VW show, they began to worry about rust on the bare metal exposed from the body work. So they wrapped the new seam in duct tape and hung a sign in the window that read: "You can do anything with duct tape."

"It was a hit," he remembers. "I had people come up to me and ask 'Is that really held together by duct tape?'"
Kyle's stretch measures 20 feet long. That's a lot of Vanagon!
Tags:
Stretch